Mali pala yung nasa last post ko... si Monica Belluci (na dinedate ni Constantine these days) pala yung girl na nagbigay kila Neo nung Locksmith for a kiss sa Matrix Reloaded.. u know.. yung line nya.. "I want you to kiss me.. like you kiss her.. (points to Trinity a.k.a. Kate Moss)"
anyway.. here's a pic of connie.. so hot!! Gah!!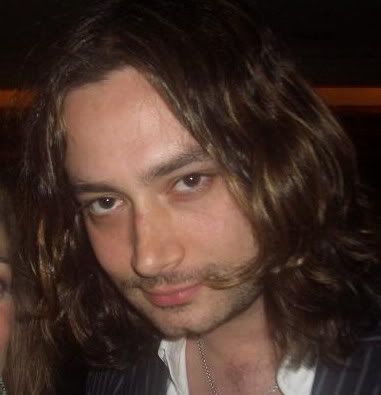 here's connie from elimidate.. who would have thunk?! Our greek god was once a mortal too!
here's connie again with his date on the premiere of star wars.. candace from nickelodeon... im so friggin jealous..
On a lighter.. less deadlier note..
Mann.. cute talaga ni Christian Bautista.. I still can't get over my crush on him. he's soOOO cute.. and he has the voice of an angel! how can a mere mortal like me resist??!! hahhyyy.. *sigh*
I was surprised yesterday na me girlfriend pala si Anthony Federov. I admit, naging member din ako ng Federovtion nung kinanta nya yung incomplete, i surrender at you don't know me by now. hahhy.. kung kelan naman gumaling sya sa mga mata ko.. tsaka naman sya natanggal..
split na daw sila nung gf nyang russian.. nagselos ata ke Carrie.. ewan! daming rumours na kumakalat sa PEx...
Con-whore mode once more..
ah basta ako, eto.. Mrs. Maroulis wannabe pa din.. one time.. hahalungkatin ko yung thread sa forum.. yung fan accounts sa come back party nila ng banda nila.. mann.. grabe.. *thinks lusty thoughts..* ah basta.. oh.. eto na pala eh..
here's one.. all these are from PEx which the PEx ppol got from GGG (Greek God Groupies)
it talks about their album's release party last may 10 (bday ko po!)
You rock girl! I'm Michelle (papilion). Remember seeing me there? What a total blast watching the boys rock their heart out up close! Here's my recap of last night. I am still trying to sink in what happened and couldn't believe I was actually there.
At around 8:30 Taylor went on stage first and told us that this was a private party for the band¡¯s fans only and how the band appreciated us being there. No cameras or recording devices of any kind were allowed. They had their own crew photographing and videotaping the show and will make these materials available through their website. Taylor also said that about 60,000 CDs were already shipped---that would introduce them into the Billboard, I guess! Then Joao and Hamboussi came out---Hamboussi was totally adorable wearing a traditional Chinese outfit. After that who else but Constantine??? As a reporter already described, he¡¯s wearing this leather jacket, ripped jeans, with black leather back pocked. Freaking HOT. He looked EXACTLY like how he appears on TV. And all those faces he made---the smile, the nose wrinkle, the tongue (yep, he stuck it out a couple of times! And every time we screamed!), the vulture look---completely the same! Yet up close you can really appreciate how gorgeous he actually is and that he got radiant and smooth skin---a little bit sweaty though. We walked on the stage one by one to get our CDs and 8x10 band photos they put there signed by the band members. I must have looked like a complete dork wearing those glasses and went like ¡°I am your biggest Chinese fan! Can I get a hug?¡± He said ¡°yeah¡± with a smile and signed the photo, and hugged me. I was being such a good girl and only grabbed the back of his jacket. After that I also asked him to sign my CD cover. Then I went offstage being completely nuts and all those girls were giving me high fives. At one point he took his jacket off and you can see the black T-shirt inside is like two-size-smaller tight and outlined his body (a little bit tummy, but who cares) WELL. Gee, I hope I could¡¯ve got a jacket-less hug. But anyway. I was just so thrilled that it was almost surreal. I watched him doing autographs for another 40 minutes or so. He chatted with fans time to time, with frequent smile on his face, and threw a couple of bottles he had emptied to the crowd. I hate myself not being athletic enough to catch one. At one point he had the pen in his mouth as if it were a cigarette and looked around. Total breath stopper.
Around 9:30 about everyone in the club (100-200 people, 99% female, I think) has got their autographs. The boys chilled out backstage for about 10 minutes and Taylor came out, shouting to us ¡°Do you want to hear Constantine sing?¡± And we said ¡°YEAH!!!!¡± Taylor said that ¡°legally¡± Constantine was not supposed to perform or sing at this moment. But he came out for the party and rocked it out anyway. He sang five songs in a row: Drift, Rich B*, Sally, Suicide, F*up world. Totally dynamic and dramatic on stage. A lot of hair tossing, and jacket flipping. He even completely lay down on the floor as if in a seizure for a moment during ¡°Drift.¡± Other things he did includes wrapping the microphone cord around his neck, sprinkling up a mouthful of water, and, yes, grabbing the pecker (I insist on keeping the specificities of that memory to my own). He also did a lot of moves that matched up with the lyrics. And he¡¯s singing right into the crowd all the time. I was up on the front only behind two other girls and kept flashing my signed photo. I thought he saw it and smiled for a second. Taylor said that the band had like only two rehearsals after Christmas, but they sounded awesome. And they¡¯re solid, such great chemistry. Constantine¡¯s vocal¡¯s absolutely fantastic, full of passion and power. You can tell where his heart truly lies from his performances. Hamboussi threw his drum sticks out at the end of the show and one of them slipped right across my fingers and got caught by the girl behind me.
After ¡°F*up world¡± the band said thank you and went backstage. Many people left at this point, but we die-hard fans decided to stay and see what was going to happen. I saw Athan, Constantine¡¯s older brother, going out of backstage once. I had a bottle of beer, when Taylor, Hamboussi, and Joao went out to talk to fans. Around 11:30 Constantine appeared again. He popped up from nowhere and was standing right in front of me, smiling, talking, and taking pictures with people. At this moment I truly regret that I didn¡¯t bring a digital camera because now pictures were allowed. Soon the tough-looking club bouncer came up and literally pushed me away. He got Constantine seated behind a table in an encircled seating area. We could still go up asking for autographs and pictures. Fortunately I had a disposable camera with me and I made my way for a picture and a personalized message---I am really keeping my fingers crossed how that picture would turn out because there were a bunch of people around us at the time. Then I just stared at him (couldn¡¯t stop) behind the crowd and took a number of snapshots until I ran out of film. At 12:00 the club bouncer started to push us out while Constantine was still seating there with a group of people that seemed to be some special guests. I felt depressed that I was forced to leave when he hasn¡¯t left yet and regretted that I didn¡¯t choose a profession anywhere close to entertainment or radio business that might get me into that special circle. But I had a total blast watching him performing and getting up close and personal with him and the band anyway.
here's another one.. i love the last friggin paragraph..
OK, so autograph table...yep yep yep...got up there and more hugs and kisses from the guys then Cons stands up and says thank you and I say thank you so much I love you guys so much and he said I love you too hug and kiss - and, in case you were wondering - he smells like HOT LEATHER. eeep. His hair is so soft and the gruffy stubble is too. He has perfect and beautiful hands. I am so sorry I couldn't get an autograph for the girl who pm'd me! I totally meant to ask about our CD zep, but completely forgot all about it when I was hugging and trying to speak - I think you can understand how I could forget so you forgive?
They must have signed 300 or more autographs, and poor cons had to kiss them all. Seriously, though, these guys are so f-ing cool, you could tell they were so happy to do this for us - non stop smiling and laughing and answered all our questions BIG FLIRTS too. And to see the fans faces to actually meet them and cons and hug him, there were tears and a lot of OMG's and such happiness - it was so awesome for them to do this!!! It only took me maybe 5 minutes during the hour + autograph time and I was THIS CLOSE to them the rest of the time - like eyeball to eyeball with TAYLOR and we talked the whole time like in between chicks - HE IS SOOOO NICE!!! and so cool to hang out with and yes girls, he's happily married, sorry!! He said they were coming to CT soon to see us cool CT chickies - yeah! They played the PFTSOB in the background the whole autograph time and Cons would sing and rock out head bang to certain parts of DRIFT while he was sitting at the table waiting for the chicks to come haha. He would smile and nod at us and wave and throw out extra auto pics into the crowd that was not in line. OK so Taylor says they have to stop but will be back in 10 - promise! So they disappear and the crew takes away the table and we're all getting ACKKKKK because my group of chickies know we are going to be crotch level with the Cons in 10 minutes. Did I mention we were THIS CLOSE - LOL with NOTHING in between us and him but maybe 2 inches at best.
OK so Taylor comes back out - and says "sorry we've only had 2 practices since Christmas...but we decided to surprise Constantine and bring our equipment. But we hear it's like against the law or something for him to sing - I don't know (everyone laughs). Do you guys want him to sing?" (everyone goes nuts) He asked 3 times before the spotlight hit Cons up at the top of the stairs from the backstage area and the place freakin explodes! He is just like shaking his head and smiling shyly in embarrassment - but OMG - if you can picture it in your head it's 5 million times OMG-ness. OK walks down the stairs still shaking his head gets on stage grabs mic - THE PLACE IS FREAKING COMPLETE CRAZINESS but Cons just closed his eyes and dropped his head down and did the prayer hands zen thing...you could tell he was trying to get ready/ clear his head for the performance "get to that place" inside himself that performers go to just before they go onstage. Then he squatted down with eyes closed, trying to get to that place inside - it was fascinating to watch and be witness to this process of his...such a personal thing it seemed like to me...and it was really WOW (did I tell you I was THIS CLOSE - LOL). They played the beginning of DRIFT (NYC subway soundbyte) and the f-ing SCREAMS, like surpassed the sound barrier loudness kind of screams. Walking by the club, you would think the place was on fire - it was unbelievable!
And from that point on, our sweet little shy Constantine completely transformed into THE HOTTEST DIRTIEST SEXIEST EYE F***ING ROCK AND ROLL MOTHER F*** GOD I HAVE EVER IN MY LIFE WITNESSED - EVER.
*AKO NA TO..*
aw gawd.. don't u just wish u were there??!!! waahh.. im so friggin obsessed with constantine.. good thing i'm not the only one.. hehehe..
*calms down..*
hmm.. wala akong maisip na mailagay sa testi ni nato.. bigyan ko n lng kea to ng graphix?? hahhy naku.. manang kim.. expect ur testi to pop out of nowhere starting today..